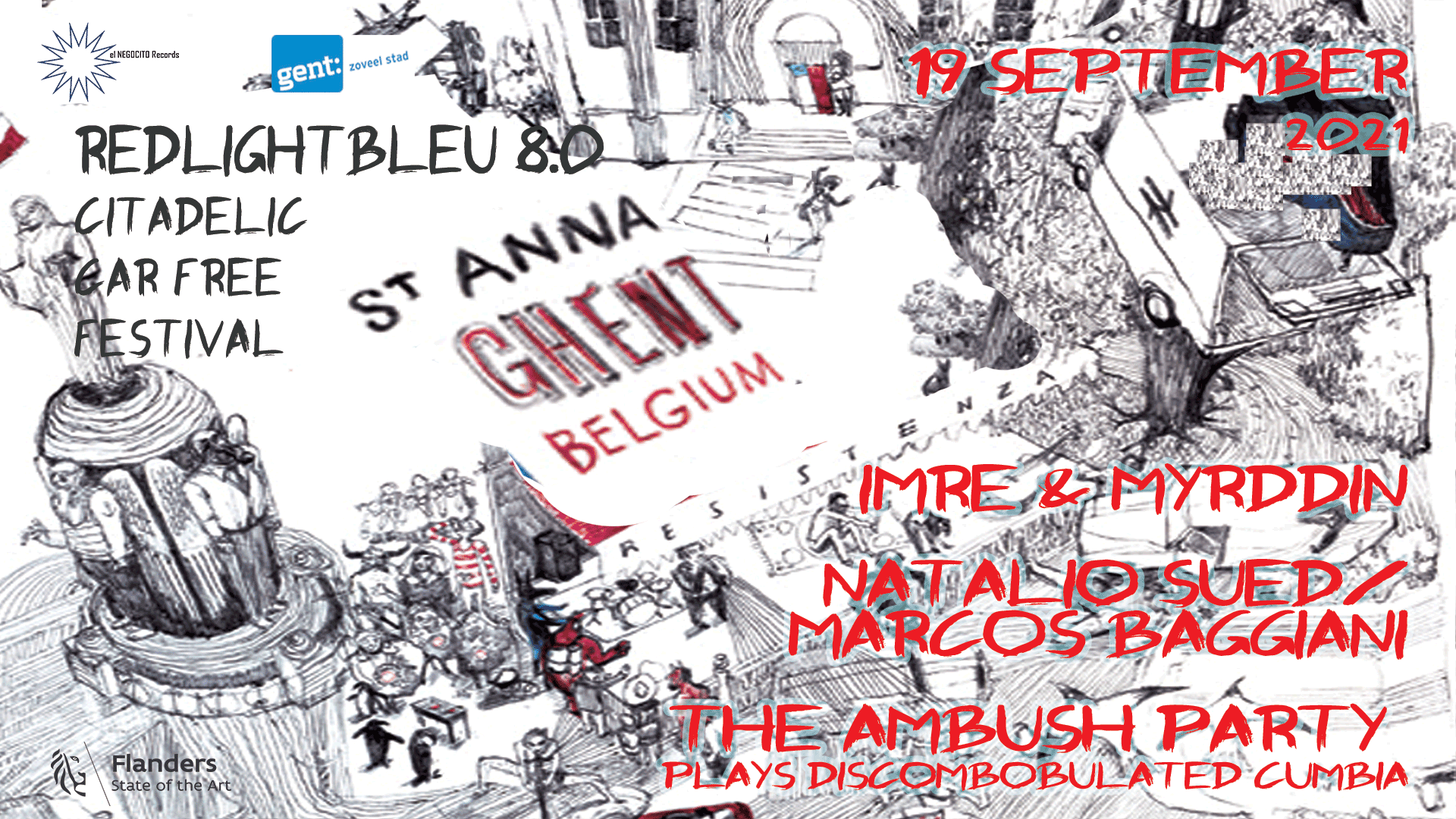 drawing Swahili
festival Car Free Day
SINT-ANNAPLEIN GHENT
SEPTEMBER 19, 12H-18H
annual festival with a Negocito touch... think cumbia with a hint of avantgarde...
13H15: Sued / Baggiani Duo, An 'out of the ordinary' sax-and-drums duo
Their musical approach stems from an encyclopaedic study of Jazz and Improvisation as well as classical composition and post-classical techniques. This information is brewed within the roots of Argentinean and Latin American culture.
Their way into sound is a revered path bound to their devoted musical dedication. For the past 25 years Natalio Sued and Marc Baggiani have played and toured together extensively within different formations, delighting audiences with their singular and mutual musical understanding, appearing at many major festivals and playing intimate club spaces. Together they have participated in 7 releases including each other's projects as well as third party albums.

They have just recorded their 1st duo album. Horn-Drum is an explosive new album from the guts of the pandemic period, ready to come out end of this year through el NEGOCITO Records.



photograph by Bruno Bonansea

the musicians are
Natalio Sued: tenor saxophone & clarinet
Marc Baggiani: drums
15H: Imre & Myrddin De Cauter, flamenco tango...
Myrddin De Cauter, the youngest son of multi-instrumentalist musician Koen De Cauter, is a phenomenon in the world of contemporary music. As a teenager, he discovered the richness and originality of the flamenco guitar, and after having mastered the subtleties, he went to Spain to take lessons with some of the masters of flamenco guitar: Gerardo Nuñez, Manolo Sanlucar,.... It turns out that Myrddin is not only a flamenco guitarist, but an exceptional talent. His technical virtuosity, his taste for experimentation and his deep lyrical sensibility merge into a unique musical world. With his latest album 'Myfyrio', he proves that great virtuosos of flamenco don't necessarily have to come from Spain.
The daughter of Myrddin, Imre, cellist, made her debut with her father at the Gent Jazz 2018. The beginning of a great career is written in the stars. The family of musicians De Cauter puts a new generation of musicians ahead.

the musicians are
Myrddin De Cauter: guitar
Imre De Cauter: cello

16H30: The Ambush Party, discombobulated cumbia
The Ambush Party is an international formation based in Amsterdam committed to playing improvised music. However, in the last years the band also developed a fascinating repertoire of cumbia music using original material, compositions of Misha Mengelberg and traditional cumbias.

"The Ambush Party plays improvised music that is impossible to predict, and impossible to resist. This is music as theatre and as exciting, engaging and humorous a band as you are likely to see." Laurence Mackin, Irish Times

"Like a Zoo after closing..." Downbeat

"You stumble, you fall, but you never hit the ground. You are flying in between two beats and the second never hits. This is the ridiculous dangerous sexy rhythm of The Ambush Party's Cumbia." O J Hoogland

The Ambush Party, the first band to emerge from the new improvisation scene in Amsterdam, is aptly named indeed. As in an Ambush, the band lies in wait for the listener, and takes him by surprise with improvisations drawing on such diverse genres as noise, tango, opera, drum 'n' bass and jazz. As for the Party, an idea that started as a joke during a theater performance some years ago now forms an integral part of the band's concerts - an irresistibly swinging set of cumbia and other danceable rhythms.



the musicians are
Natalio Sued: tenor saxophones
Harald Austbø: cello
Oscar Jan Hoogland: rhodes
Marc Baggiani: drums