CONTACT become a friend become a volunteer ARCHIVE
CITADELIC is highly commited to music, jazz, improvisation and performance...
with a summer in the park festival
and other programs at different locations like SMAK, Atelier, Gravensteen, St-Anna, El Negocito!!!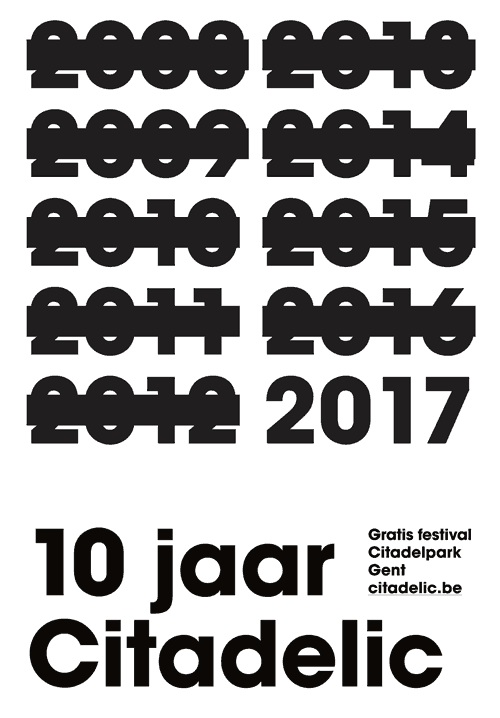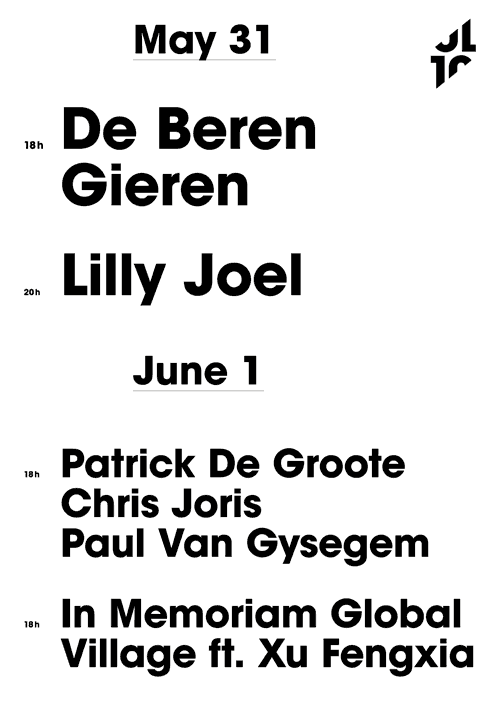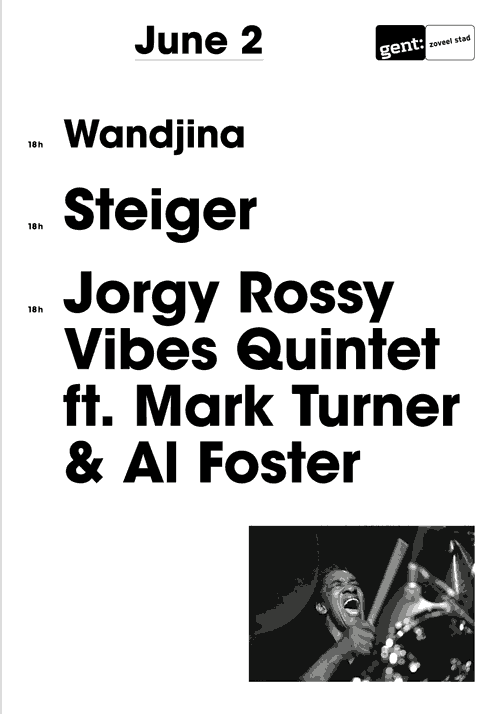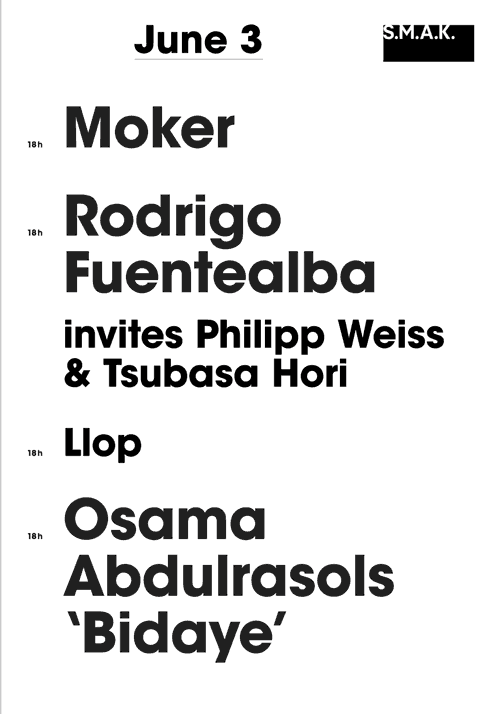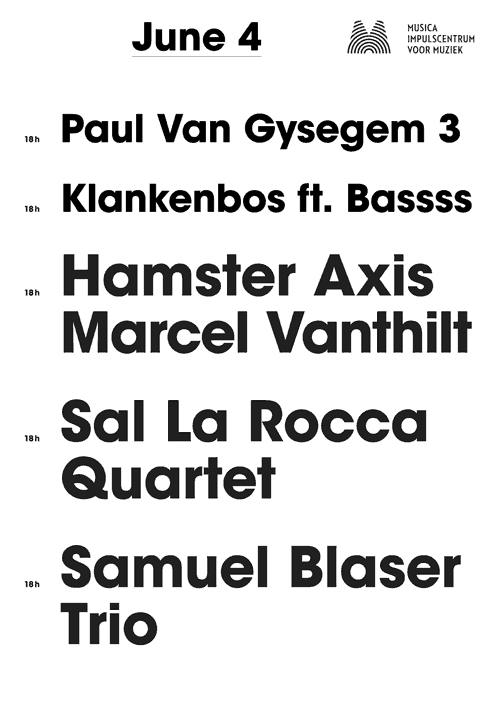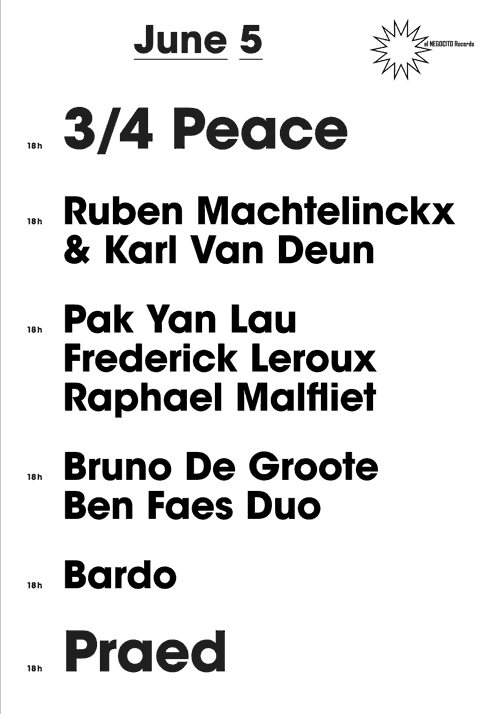 CITADELIC SUMMER 17 in Citadelpark from 31 may to 5 june 2017
FULL PROGRAM: LINK HERE

Beste mensen

graag hadden we u attent gemaakt op nog 2 concerten voor ons festival

Citadelic Summer in het Citadelpark begint vanaf woensdag 31 mei. We hopen jullie in mooie getalen te verwelkomen met deze fantastische line-up (denken we zelf toch) als 10de editie en zo een reden tot een muzikaal feest. Alle concerten zijn gratis dus moeten wij ook werken met consumpties om uit de kosten te komen. We hebben dit opgelost door eten op zijn Negocito terug te serveren maar hebben ook lekker Gents van 't vat met l'Arogante - Pils 13 - Hedonis. Reden te meer om te komen… We zouden ook nog andere specialekes willen bieden zoals nieuweling ... .
Voor de liefhebbers van wijn is er zelfs een heuse wijnproeverij op maandag 5 juni om 15h-16h30 (inschrijven hier) waar ook de gelegenheid geboden wordt om achteraf wijnen te kopen met levering of gewoon een lekkere fles te proeven. Ook hier hopen we geld te recupereren, dus indien jullie toch wijn kopen voor de zomer tegemoet te gaan ... .

Qua muziek zijn de 6 dagen zeer divers. We serveren Gentse top met Moker, De Beren Gieren, Steiger, Paul Van Gysegem Trio hebben 2 internationale topensembles met Jorge Rossy Vibration Quintet (Jorge Rossy is o.a. de vaste drummer van Brad Mehldau Trio). In deze allstar band met saxofonist van het moment Mark Turner was eerst Al Foster aangekondigd maar wegens omstandigheden kan hij er niet bij zijn. Hij wordt vervangen door niemand minder dan Joey Baron (Bill Frisell, John Zorn, Stan Getz, enz. ). Iets avantgardistischer hebben we het met de Zwitserse veel gevraagde trombonist Samuel Blaser die ook Marc Ducret meebrengt.

Maar evenhard kijken we uit naar de jazz met invloeden uit de wereldmuziek met instrumenten als de traditionele Taiko Japanse drum (zaterdag met Rodrigo Fuentealba), Chinese guzeng (donderdag met Peter Jacquemyn), Oosterse qanun lap harp met onze Gentse Irakees Osama Abdulrasol en psychedelische shaabi uit Beirut om het festival te eindigen op maandag.

Op zondag is er een wandeling naar grote Visuele Partituren van hedendaagse componisten (i.s.m. met Musica) die start om 15h door het Citadelpark (inschrijvingen hier). En dan zijn er ook nog premieres en releases met Patrick De Groote - Chris Joris - Paul Van Gysegem en Llop, de groep van talent Erik Bogaerts en fantastische Franse bassist Brice Soniano.
En dan spreken we nog niet van de heerlijk lyriek van het hemelse 3/4 Peace met Christian Mendoza en Ben Sluijs, de intimiteit van de duos Machtelinckx/Van Deun of De Groote/Faes, het nieuwe quartet van de bassist van Vaya Con Dios Sal La Rocca met onze lieveling Jeroen Van Herzeele, de excentriciteit van Marcel Vanthilt met zijn antwerpse Hamster en de frisheid van Lilly Joel met Jozef Dumoulin en Lynn Cassiers.

Wij zoeken nog vrijwilligers, dus als je ons echt wil helpen mail naar info@citadelic.be Graag sluiten we deze cyclus van 10 jaar concerten in het Citadelpark af zonder enig verlies. Daarom gaan we ook hebben we ook een fundraising opgezet HIER met producten zoals wijn en muziek, maar ook specialekes zoals unieke goaches (mixed media) van Paul Van Gysegem, lino's van Peter Jacquemyn en een nieuw fotoboek met zeer veel prenten van Cees Van De Ven. We denken dat dit de enigste manier zal zijn om met een groot hart en frisse moed de volgende 10 jaar tegemoet te gaan.

Alvast bedankt voor jullie aanwezigheid over die jaren en graag 'spread the word' op alle manieren, like ons op Facebook of nodig je vrienden uit rechtstreeks of door te sharen…

NAMES
Jorge Rossy Vibes Quintet ft. Mark Turner, Joey Baron (topensemble met percussionist van Brad Mehldau & drummer van Bill Frisell, John Zorn, Stan Getz dus niet Al Foster wegens familiale omstandigheden)
The Singing Painters ft. Carver & Horn in het SMAK naar aanleiding van tentoonstelling Dirk Zoete op 25 mei
GLiTS cd release tour - op verschillende plaatsen in de stad op zaterdag 28 mei
4tet Sal La Rocca, Lieven Venken, Jeroen Van Herzeele, Pascal Mohy
Moker Gentse topband op cd tour Ladder
Patrick De Groote - Chris Joris - Paul Van Gysegem wereldpremiere & cd release
Llop ft. Brice Soniano cd release tour J, Imp
Samuel Blaser Trio ft. Marc Ducret
Lilly Joel spannend duo met Jozef dumoulin & Lynn Casiers
Hamster Axis en Marcel Vanthilt wereldpremiere
Wandjina nieuwe groep ontsprongen uit Conservatorium rond Jens Van Esh
Bruno De Groote / Ben Faes duo cd release tour
Rodrigo Fuentealba invites Philip Weiss & Tsubasa Hori Taiko Japanese drum master
De Beren Gieren Gents hedendaags pianotrio ft. Fulco Ottervanger
3/4 Peace schoonheid van het lyrische pianotrio met Ben Sluys, Christian Mendoza en Brice Soniano
Praed psychedelic shaabi van Beirut
Steiger Gents nieuwe hedendaags pianotrio
Ruben Machtelinckx & Karl Van Deun
Pak Yan Lau toy piano's
Frederick Leroux solo
Raphael Malfliet solo
Bardo Gentse band rond Gilles Vandecaveye
Osama Abdulrasols qanun (lap harp master) new project 'Bidaye - Building Bridges'
Klankenbos ft. Bassss project Musica (inschrijven)
In Memoriam Global Village ft. Xu Fengxia meesteres muzikante van traditioneel Chinees Aziatisch instrument guzeng
Paul Van Gysegem 3 ft. Giovanni Barcella & Erik Vermeulen


Wijndegustatie: zondag 4 juni
lokale Gentse tapbieren: L'Arogante - Pils 13 - Hedonis
keuken (food/drinks & wines): El Negocito

for musician application
Please send your cd's to
Abeelstraat 9, 9000 Gent, Belgium
S.M.A.K. Museum, S.M.A.K. café, Troika vzw, Q'Onda? vzw en el NEGOCITO Records present
CITADELIC @ SMAK CONCERTS

26 september 2017
...
SPEAK EASY (Ute Wassermann / Phil Minton / Thomas Lehn / Martin Blume)

....

The European quartet Speak Easy uses the quicksilver analog synthesizer squiggles and stabs of Thomas Lehn and the scrabbling percussion of Martin Blume to sandwich the otherworldly vocal acrobatics of Phil Minton and Ute Wassermann. Here the singers produce sounds just as abstract and unidentifiable as any instrumentalist, interacting and prodding not just one another, but their other two cohorts, in a dazzling rise-and-blowout.

17 oktober 2017
g a b b r o (Marc De Maeseneer / Hanne De Backer)
Sounding Tears (Mat Maneri / Lucian Ban / Evan Parker)

g a b b r o. Belgian baritone saxophone players Hanne De Backer and Marc De Maeseneer make music in the broadest available musical spectrum. Nevertheless, they go back for their very 1st release to the jazz and freejazz tradition and give it a personnal, contemporary and unique touch.

...

9 november 2017
Bambi PangPang (Viktor Perdieus / Laurens Smet / Seppe Gebruers) ft. Frantz Loriot
...

5 december 2017
Fish-Scale Sunrise (Ab Baars / Kaja Draksler / Joe Williamson)
Giovanni Di Domenico & Abschattungen (Laurent Blondieau / Quentin Manfroy / Audrey Lauro / Daniele Martini / Gregoire Tirtiaux / Marti Melia Jordi Grognard / Giotis Damianidis / Axel Gilain / Mathieu Calleja / Jakob Warmenbol / Giovanni Di Domenico)

agenda

TUESDAY 16 may 20H @ SMAK Museum
- VEDER (Niels Van Heertum / Eivind Lønning / Joachim Badenhorst / Ruben Machtelinckx)
- SYLVIE COURVOISIER TRIO (Sylvie Courvoisier/ Drew Gress / Kenny Wollensen)

17 september 2017
redlightBLUE carfree day 17 CITADELIC @ St-Annaplein Gent
NEWS

19 january 2017
looking at program Citadelic Summer 2017 in Neerpelt @ Dommelhof and in Gent in the Park from the 1st till the 5th of june

12 september 2016
Citadelic Summer 2017 will be in Neerpelt @ Dommelhof and in Gent in the Park from the 1st till the 5th of june

13 december 2015
Program and poster available for beginning of the year concert @ SMAK Museum

30 january 2015
We will program concerts in co production with SMAK at the Museum. 3 spring dates to follow soon !!!

8 august 2014
Citadelic Festival edition 8 from 28 til 31st of may

8 june 2014
Atelier sessions announced... release eNR022 / new kid on the bloc on piano Kaja Draksler / Giovanni Barcella as Robin Hood

17 may 2014
helterskelter... programm on the way; poster by smeraldina-rima etc.

03 june 2013
We are working on concerts + wine Session at St-Annaplein on carfree day the 22th of september + release cd eNR015: Bart Maris/Lode Vercampt duo... more info follows

21 may 2013
Together with the people involved, we have decided to cancel the concert of the Wuppertal Improvisers Orchestra due to the rainy weather forecast... but there will be a better day undoubtedly.

29 april 2013
The poster has arrived

3 april 2013
Wuppertal Improvisers Orchestra ft. Peter Jacquemyn, Fred Van Hove / Els Vandeweyer Duo, Kris Wanders Group and Antiduo are first names for Citadelic in the park. Full line up the 29th of april.

28 march 2013
After some unforseen problems we will be able to continue the festival in the parc,
first name for Citadelic 2013 is the WIO featuring Peter Jacquemyn, Mark Sanders and Kris Wanders. You can come and play a session with them on saturday the 25 of may.

20 december 2012
We decided to organize some improvisation and jazz concerts clubstyle in music and eatcafé La Resistenza, Brabantdam 82, Ghent.

30 october 2012
The winterfestival poster has arrived.
website: made by MNDesign 2017