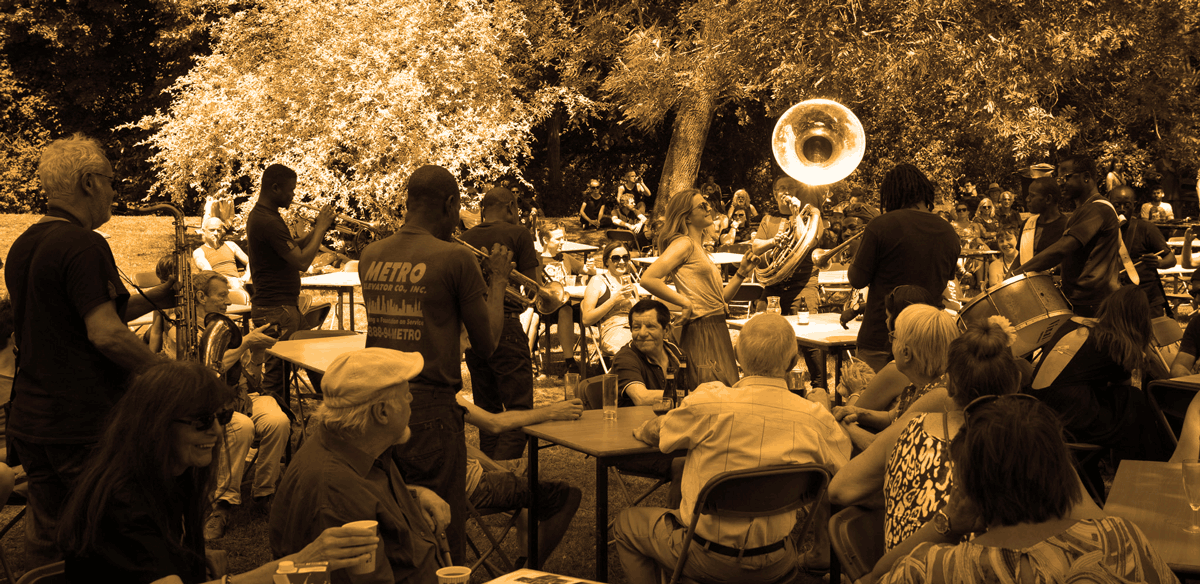 © Gunter Verbeeken
festival CITADELIC FESTIVAL 2022 #15 . adventure in music in the park


From Wednesday May 25 onwards until Sunday May 29,  Citadelic Festival is back with it's 15th edition full of adventurous music and a focus on jazz and improvisation. The offerings are eclectic and show all different sides of jazz and improv from,classic, avant-garde, indie, contemporary or experimental, the program will have something for everybodies liking, young or old.

Originality out of the undercurrent of society, developing one's own voice and embarking on a musical quest is what has made jazz a worldwide art form.
A lot of interesting Belgian musicians will be featured again this year: Dré Pallemaerts, Peter Jacquemyn, Eric Thielemans, Yannick Peeters, Ruben Machtelinckx, Rudy Trouvé, Mauro Pawlowski, Stef Camil Carlens and Bart Maris to name just a few. We've handed out a 'carte blanche' to Natashia Kelly, who has made a project inspired by her Irish roots. French musician Audrey Lauro, based in Brussels, will be performing daily as the artist in residence, with a diversity of projects that more than show of her talent on alto saxophone.
But we are also looking much forward to the passage on thursday of reputable musicians from the British scene in these times of Brexit: Trevor Watts (83 years!), Veryan Weston, Mark Sanders and the still young but already remarkable pianist Alexander Hawkins. Paul Lytton will be playing a duo with our pianist Seppe Gebruers on Saturday midday...
How about an evening of Kurt Weill performed by a uniquely composed 13-piece German orchestra or the drumming talent of the Hungarian Balázs Pándi; theater giant Josse De Pauw performing to the tunes of a jazz quintet or a colourful band of horns and percussion from Eritrea, Sudan and the Netherlands; the tight sound of a contemporary New York jazz trio or the group improvisations of a large Canadian collective for an exclusive concert in Belgium. You can come and explore it all at Citadelic.

The younger generation musicians also joins in, with bands from the conservatory, the accordion of youngster Stan Maris, the cello of Imre De Cauter, the modern poetry of vocalist Alexandra Gadzina, the youthful Brussels violence of EVIGS. And then there are numerous projects with the socio-cultural group de Ledebirds during on a lazy sunday and a new collaboration with Studio Ensemble on Ascension Day.

No less than 5 days of musical adventure, that's what we sign up fo, with more than 25 concerts. In addition to fascinating music, you can continuously enjoy a summer snack and a fresh drink, offered by El Negocito. On Thursday, Friday and Saturday pianist Augusto Pirodda prepares some Sardinian delicacies with love for you to enjoy.



free entrance


meet the artists

nicola andrioli . gonçalo almeida . bereket behre akitu . clarisse bériault . laurence bilger . elko blijweert . damien brassart . janos bruneel . edward capel . stef kamil carlens . ryan carniaux . nicolas chkifi . andrew claes . marijn claeys . isabelle clermont . sébastien côrriveau . emmanuel cremer . giotis damianidis . olivier d'amours . luke dawson . sander de block . imre de cauter . josse de pauw . achilles de raedt . maxime dereux . matthias dewilde . elias d'hooge . john dikeman . harald eller . johannes fink . alexandra gadzina thomas gaudet-asselin . seppe gebruers . gionata giardina . sam goekint . gerhard gschlößl . kenrick gunther. jamie harris . alexander hawkins . teuk henri . joe hertenstein . patricia ho-yi wang . sebastien hugue . peter jacquemyn . tom jacques . mathieu janssens . yannick heselle . max johnson . natashia kelly . jan klare . tobias klein . émie lachapelle . mattias laga . anton lambert . pascal landry . audrey lauro . mirte leconte . de ledebirds . philippe lemoine . ben weiss levi . michael lösch . paul lytton . john maasakkers . ruben machtelinkcx . marc-antoine mackin guay . bart maris . stan maris . catherine massicotte . osama meleegi . jef mercelis . frederik meulyzer . michael moore . philipp moser . nikolaus neuser . stan nieuwenhuis . éric normand . dré pallemaerts . balázs pándi . mauro pawlowski . yannick peeters. augusto pirodda . helga plankensteiner . alexandre robichaud . gabriel rochette-bériau . nicholas rombauts . thomas sagne . taiko saito . mark sanders . michael sarin . wolfgang schmidtke . robin servant . jasper stadhouders . leonard steigerwald . rob swennen . eric thielemans . anke thomassen . rudy trouvé . kuan jerry ù . umberto odone . nicolas van belle . jan van de lest . lander van den noortgate . dick van der harst . mathias van de wiele . bart van dongen . emanuel van mieghem . bart verbeke . matt watts . trevor watts . bram weijters . anna webber . veryan weston



the PROGRAM
wednesday May 25
12H Four Circles
Philippe Lemoine – tenor saxophone
Audrey Lauro – alto saxophone
Emmanuel Cremer – cello
Nicolas Chkifi – drums
14H Matterhorn Well
Imre De Cauter - cello & fx
Matthias Dewilde - Fender Rhodes & fx
18H Peter Jacquemyn Quartet
John Dikeman – tenor saxophone
Mauro Pawlowski – guitar
Peter Jacquemyn – double bass
Eric Thielemans – drums
20H30 Spinifex
Bart Maris – trumpet
Tobias Klein – alto saxophone
John Dikeman – tenor saxophone
Jasper Stadhouders – guitar
Gonçalo Almeida – bass guitar
Philipp Moser – drums
thursday May 26
12H Erem

CONCERT CANCELLED


Mirte Leconte - voice
Stan Maris - accordeon
Nicolas Van Belle - guitar
14H Thursday Circle at Ensemble: Stann
Stan Nieuwenhuis - copper & cornet
14H30 Thursday Circle at Ensemble: Amo
Anke Thomassen - guitar, keys & stem
Achilles De Raedt - guitar
Elias D'hooge - keys
Mathieu Janssens - bass
Sam Goekint - drums
15H Aegle
Alexandra Gadzina - voice & compositions
Leonard Steigerwald - piano
Yannick Heselle - bass guitar
Umberto Odone - drums
17H Thursday Circle at Ensemble: Plume
Damien Brassart - soprano saxophone
Gionata Giardina - drums
Emanuel Van Mieghem - double bass
17H30 Thursday Circle at Ensemble: One Frame Movement
Marijn Claeys - keys
Anton Lambert - elektronica & double bass
Sander De Block - drums & percussiom
18H30 Eternal Triangle
Trevor Watts - saxophones
Veryan Weston - piano/keyboard
Jamie Harris - congas/percussion
20H Thursday Circle at Ensemble: Bartver
Bart Verbeke - piano
21H Hawkins - Lauro - Sanders
Audrey Lauro - alto saxophone
Alexander Hawkins - piano
Mark Sanders - drums/percussion
friday May 27
12H EVIGS
Maxime Dereux - alto saxophone
Thomas Sagne - guitar
Kuan (Jerry) Ù - piano
Sebastien Hugue - bass
Rob Swennen - drums
17H Dark Ballads + Balázs Pándi
Audrey Lauro - alto saxophone
Giotis Damianidis - guitar
Balazs Pándi - percussion
18H30 Max Johnson Trio
Anna Webber - alto saxophone
Max Johnson- double bass
Michael Sarin - drums
20H30 I H8 Camera
Rudy Trouvé - guitar, voice & ceremony
Stef Camil Carlens - bass & voice
Nicolas Rombauts - bass
Jef Mercelis - analogue synth
Matt Watts - voice & percussion
Elko Blijweert - guitar
Teuk Henri - guitar
Erik Thielemans - drums
saturday May 28
12H-14H Seppe Gebruers / Paul Lytton
Seppe Gebruers - piano
Paul Lytton - percussion
14H-16H Track improvisé with the musicians of GGRIL curated by Audrey Lauro
Audrey Lauro - Alto Saxophone
+ GGRIL
17H GGRIL: Grand Groupe Régional d'improvisation Libérée (Canadian ensemble of improvisers, Rimouski/Quebec)
Émie Lachapelle - alto saxophones
Isabelle Clermont - electric harp
Marc-Antoine Mackin Guay - baritone guitar
Olivier D'Amours - electric guitar
Pascal Landry - classical guitar
Patricia Ho-Yi Wang - violin
Catherine S. Massicotte - violin
Clarisse Bériault - oboe
Robin Servant - accordion
Sébastien Côrriveau, - bass clarinet
Thomas Gaudet-Asselin - electric bass
Éric Normand - electric bass
Luke Dawson - double bass
Tom Jacques, percussion
18H30 Hamster Axis of the One-Click Panther + Josse De Pauw
Josse De Pauw - spoken word
Bram Weijters - piano
Andrew Claes - tenor saxophone
Lander van den Noortgate - alto saxophone
Janos Bruneel - double bass
Frederik Meulyzer - drums
20H30 To Kurt Weill - Jazzwerkstatt Improvisors Special Collective dir. By Wolfgang
Schmidtke ft. Michael Moore
Ryan Carniaux, - trumpet, flugelhorn
Nikolaus Neuser, - trumpet
Gerhard Gschlößl - trombone
Wolfgang Schmidtke - bas clarinet & tenor saxophone
Helga Plankensteiner, bars baritone saxophone
Jan Klare - bas & alto saxophone
Johannes Fink, - cello
Taiki Saito - vibes
Michael Lösch - piano
Haro Eller, - bass
Joe Hertenstein - drums
+
Special guest: Michael Moore - clarinet
sunday May 29
12H De Ledebirds: aperitif concert
..-..

14H De Ledebirds: repertoire of and with Dick van der Harst, live 'soundpainted' diredted by Johan Sabbe
Dick van der Harst - different music instruments
..-..

15H30 De Ledebirds: Bendir initiation by Hilde De Clercq
..-..

16H De Ledebirds: Hilde De Clercq & percussion students
..-..

17H De Ledebirds: duo's, trio's, quartets...
..-..
18H Audrey Lauro solo
Audrey Lauro - alto saxophone
19H Natashia Kelly carte blanche
Natasha Kelly - zang
Nicola Andrioli - piano
Ruben Machtelinkcx - guitar & banjo
Yannick Peeters - double bass
Dré Pallemaerts - drums
20H30 Eddy & the Ethiopians
Edward Capel - saxophone & alto clarinet | the Netherlands
Bereket Behre Akitu - krar & vocals | Eritrea
Bart Maris - trompet & bugel | Belgium
Laurence Bilger - flutes | France
Mathias Van de Wiele - guitar | Belgium
Kenrick Gunther - percussion & vocals | the Netherlands
Osama Meleegi - percussion | Soedan
Bart van Dongen - piano | the Netherlands
Jan van de Lest - bass | the Netherlands
John Maasakkers - drums | the Netherlands

INFO / SECURITY
no reservation, no registration needed
Above all, we want you to enjoy yourself, in a safe environement.
Citadelic zorgt ervoor dat de nodige veiligheidsvoorzieningen betreffende ruimte en afstand kunnen worden opgevolgd.
We volgen hiervoor de adviezen van de overheid en schakelen bij indien nodig.

General rules
*Wash your hands regularly.
*If you are sick, don't feel well, show symptoms of Covid or have been in contact with someone who may have been in contact themselves, stay home for a while! Take care of each other.
met de geweldige steun van De Vlaamse Gemeenschap en de Stad Gent