LINE UP CITADELIC@SMAK 18

location: S.M.A.K. museum
Jan Hoetplein 1, Ghent
other concerts
thursday 4 OCTOBER
20H
YOU MOVE, I MOVE, WE MEET (Peter Jacquemyn / Geraldo Si / Sofia Kakouri)
21H15
AZURE MORTAL (Dirk Swartenbroekx / Ernst Löw / Rodrigo Fuentealba Palavacino / Peter Verdonck)


thursday 1 NOVEMBER
20H
DUO POUR 454 CHORDES (Pak Yan Lau / Lionel Malric)
21H15
AVA MENDOZA 'UNNATURAL WAYS' (Ava Mendoza / Tim Dahl / Sam Ospovat)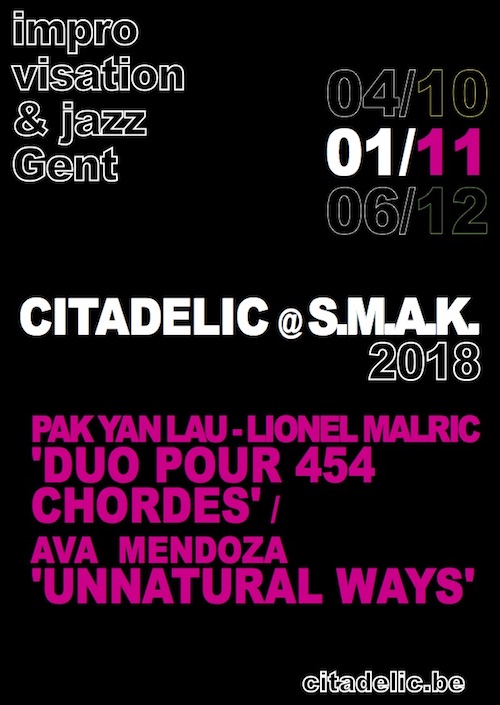 for reservation (VVK) mail info@citadelic.be
thursday 6 DECEMBER
20H - DIRIGO RATAPLAN
Drummer-Composer Devin Gray reconvenes his Dirigo Rataplan band of master musicians from New York for follow-up to acclaimed first album.. Dirigo Rataplan II – due out September 21, 2018, via Rataplan Records – showcases a striking set of original Gray compositions featuring saxophonist Ellery Eskelin, bassist Michael Formanek and trumpeter Dave Ballou.
"A musician-drummer rather than a drummer-drummer, Gray is interested in making music that is deeply evocative… shaped by a fizzing, often restless push-pull energy." — Jazzwise
There are times when music lovers can just feel a talent coming into his or her own, when that artist is someone to catch onstage or on record at every opportunity. Drummer-composer Devin Gray has arrived at such a moment. The Brooklyn-based artist made his leader debut in 2012 with the Skirl Records release Dirigo Rataplan, which featured him fronting the eponymous band with trumpeter Dave Ballou, tenor saxophonist Ellery Eskelin and bassist Michael Formanek, each a master improviser renowned far and wide among fans of creative music. Cadence magazine declared that initial disc to be "fantastic," while JazzTimes said that Gray's debut represented "the work of a young artist who knows who he is." The Free Jazz blog encapsulated the album this way: "This music is all about soul, with technical skills and finesse fully at the service of the end result, full of surprises, emotion and a deep-rooted sense of pulse . One of the best debut albums in years."
Now, after six years of intensive experience performing and recording as leader and sideman on both sides of the Atlantic, Gray has reconvened this all-star group for Dirigo Rataplan II, which will be released on CD, vinyl, digitally and for streaming via Rataplan Records on September 21 , 2018. Time Out New York has praised Gray's compositions for balancing "formal elasticity with a meticulous sense of pacing." The new album brims with more earworm melody, richly implied harmony and a loose-limbed sense of rhythm as something physical and flowing – as blood, as breath. Fans of jazz from Ornette Coleman and Henry Threadgill to Dave Holland and Craig Taborn will dig this organic, engrossing mix of composition and improvisation, structure and freedom, atmosphere and dynamism.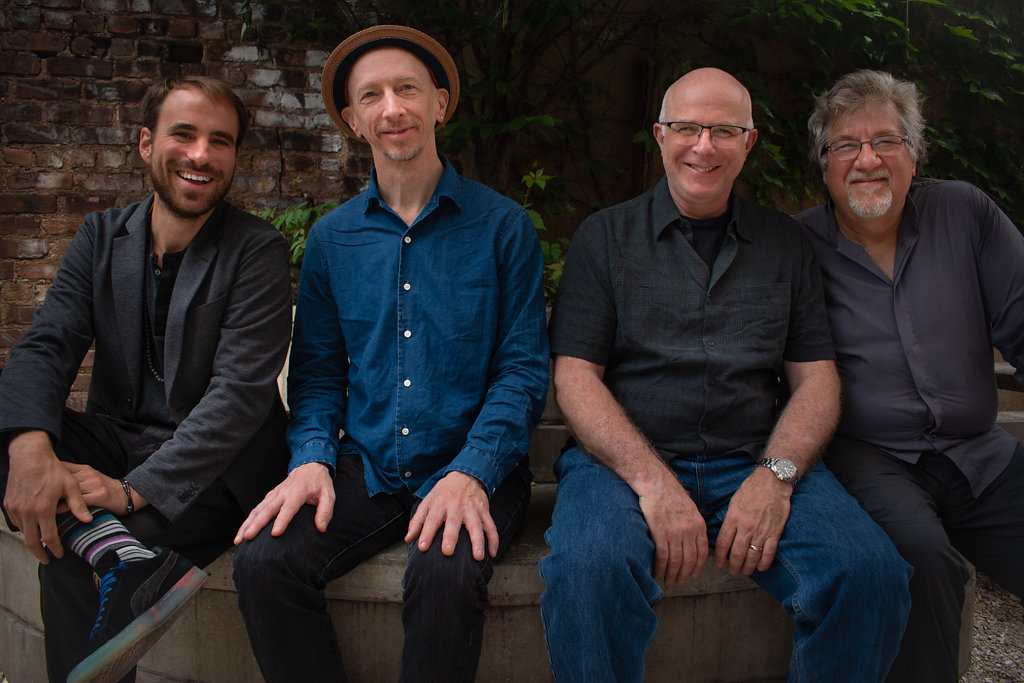 Ellery Eskelin (US): tenor saxophone
Michael Formanek (US): double bass
Dave Ballou (US): trumpet
Devin Gray (US): drums
21H15 - YELEMANI TRIO
Yelemani Trio (Burkinese for "change") was founded in March 2014 when Moussa, Mathias & Giovanni decided to form a group out of their mutual love for African and improvised music. Their music is rooted in different Burkinese traditions as well as in Jazz, impro, rock, psychedelica and electronic music. The result is an exotic sonic adventure in which dialogue, creation and positive energy are the essentiel elements…

These three musicians where/are working with several top projects such as: Banquets Nomades, Moker, BackBack, Charles Gayle Trio, Va Fan Fahre… and have been roaming the globe performing and travelling as musical gypsies.
Moussa Dembélé (BF): balafon, djembé, kora, n'goni, tama, bara
Mathias Van de Wiele: guitar, alto horn
Giovanni Barcella (IT): drums, electronics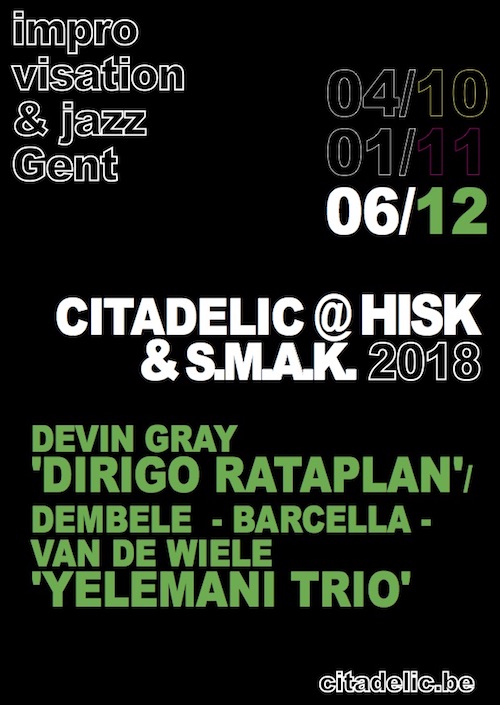 Breaking The Improvised Border I:
Citadelic (Gent - B, citadelic.be) + Muzzix (Lille - Fr, muzzix.info)
dans le cadre de la convention de coopération culturelle entre la Communauté Flamande et la Région Hauts-de-France
in het kader van de culturele samenwerkingsovereenkomst tussen Vlaanderen en Hauts-de-France