LINE UP CITADELIC@SMAK 18

location: S.M.A.K. museum
Jan Hoetplein 1, Ghent
other concerts
thursday 1 NOVEMBER
20H
DUO POUR 454 CHORDES (Pak Yan Lau / Lionel Malric)
21H15
AVA MENDOZA 'UNNATURAL WAYS' (Ava Mendoza / Tim Dahl / Sam Ospovat)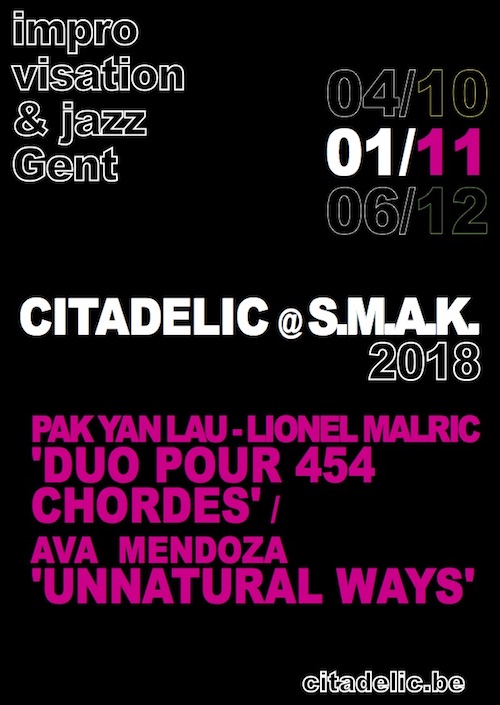 friday 6 DECEMBER
20H
DIRIGO RATAPLAN (Ellery Eskelin / Dave Ballou / Michael Formanek / Devin Gray)
21H15
YELEMANI TRIO (Moussa Dembélé / Mathias Van de Wiele / Giovanni Barcella)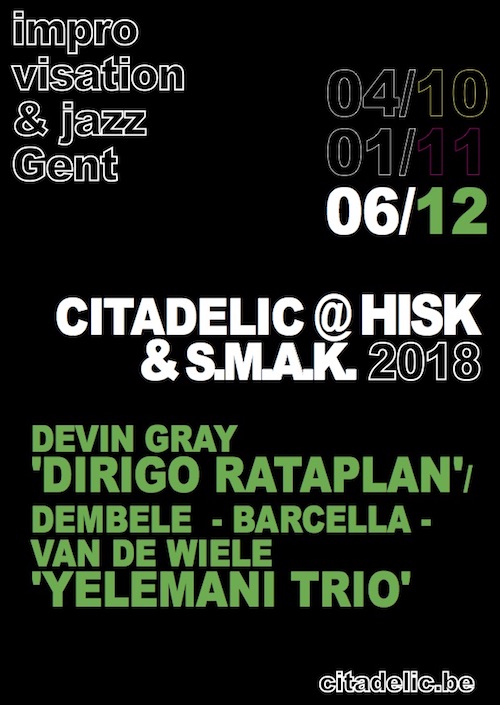 for reservation (VVK) mail info@citadelic.be
thursday 4 OCTOBER
20H - YOU MOVE, I MOVE, WE MEET?
Peter Jacquemyn (1963, Schaarbeek) is a well-known figure on the European improvisation scene. Jacquemyn - a self-taught musician - workd with Peter Kowald, Fred Van Hove, Joëlle Leandre, Phil Minton, Takashi Yamane and Evan Parker to name just a few. His style is very energetic and spectacular, maybe his qualities as a judoka have something to do with this? He developed his own style of playing in which all kinds of objects and 2 to 3 bows are used at the same time. One of his key signatures in his powerful performances is Khoomi - Mongolian deep throat singing.

Here dance and music are forged into one performance. Sound gets a body. Movement makes noise. Basically all performers speak the same deep human creative language. Free improvisation is the method, each performance is unique. The fundamental coherence of movement and sound results in the sound and choreography, simple and transparent, simultaneously intrinsically and emotionally ambiguous and complex. The action leads the thought, the interaction shows the way. The act is the starting point, the legitimation and the catalyst of the creation and development of the performance.

Geraldo Si began his dance career in 1981 with Pantanaliadança, Brazil, after having been taking dance classes for three years. In São Paulo, he worked as dancer and actor with Antonio Abujamra, Geraldo Thomas, Penha de Souza, the Teatro Brasileiro de Dança, Marzipan Dance Cia amongst others. He also participated in a number of T.V. series.
In 1990 Si came to Germany to join the Wuppertaler Tanztheater led by Pina Bausch, where he danced as a soloist for four years. Subsequently he collaborated with Raimund Hoghe, Stephanie Thiersch, Healing Theatre Köln, rodolpho leoni dance, Vera Sander Art Connect and Cocoondance.
Inspired by the collaboration with Suprapto Suryodarmo, for the past twelve years Geraldo Si has focused most of his work on improvisation and the concept of "growing through movement". In 2002 he initiated an on going series of events "SichtLaut". On these performance evening dancers, actors and musicians experiment within the borders of improvisation.

Grown in Crete, Greece, Sofia Kakouri is a dance instructor, practitioner of movement, music and performer who is based in Brussels and works in different countries in Europe. She began dancing and practice sports training at the age of 3 when she joined a classical ballet. Graduated from the Public School of Orchestral Art in Athens of Greece 2010. She studied four years with to Linda Kapetanea and Yojef Fruchek. She has been focusing on movement research exploring different ways and techniques of creative and physical expression. She has been following several workshops and training of contemporary dance, circus, martial arts, action theater, yoga and more. She develops her own creative and performing language through improvisation, instant composition and via the coordination of the body parts, voice, pocket trumpet and objects.
Chainsaw carving and improvising on the bass are Peter Jacquemyn's two professional passions. He is an artist in heart and soul, but above all a nonconformist. As a result, his career has always deviated from the textbook norms and conventional academic trajectories. He has never set foot in a music conservatoire (as a student, that is), although with regards to his training in art, he did attend Sint-Lukas (Brussels), where he now teaches.
'Choosing between both activities was never an option for him. The duality of visual artist and improvising musician is something he turns to his advantage.' The physical effort involved in sculpting has left its mark. You will never hear Jacquemyn perform a sonata, or at least not in the familiar form.
Yet the reduced suppleness of his fingers lends a special quality to the music. As a result, his playing style has greater assertiveness and is rather more percussive, without degenerating into purely rhythmical string violence.
Although his projects keep expanding, Peter Jacquemyn remains faithful to his slightly anarchistic nature. Once a free spirit, always a free spirit.
Peter Jacquemyn profiled by Georges Tonla Briquet on belgianjazz.be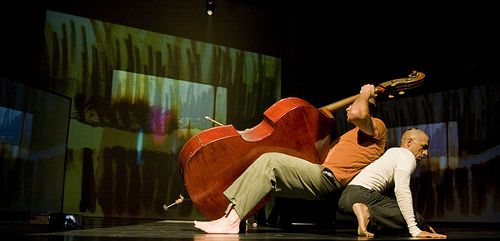 Peter Jacquemyn: double bass
Geraldo Si (BR): danser
Sofia Kakouri (GR): danser
21H15 - AZURE MORTAL
The project Azure Mortal of Belgian Dirk Swartenbroekx (Buscemi, Squadra Bossa, Radical Slave) is producing avant-garde electronic audio-experiments and writing low frequency music for live performance, art installations, expos, films and choreography. Dark ambient is maybe a good description for the Azure Mortal sound. Nurse With Wound, Throbbing Gristle, Ornette Coleman, Steve Reich and Five or Six are a huge inspiration.

Their album 'Duivels' described by 'Merchantsofair'…
In a way, it seems like Azure Mortal is the dark side of Swartenbroekx. Ambient, jazz, drones and soundscapes make up this album, but all in a gloomy, kind of eerie, manner. Yet, somehow I'm still reluctant to place this album between my dark ambient collection. There's much more to it, even though 'Waai' and 'Gene Krupa Goes Bananas' are great pieces of dark minimalism. Azure Mortal feels more like a band I would place between Dale Cooper and Bohren.

Other influences I can hear seem to come from Throbbing Gristle, Steve Reich, Nurse With Wound, Angelo Badalamenti, Nils Frahm and so on. So yes, there are a few layers of old industrial, mainly in some of the rhythms, as in the brilliant song 'Deadweight' and the poetic 'Nacht'. There's also a bit of classical music, as in the joyful piano piece, aptly named 'Piano Piece' and even some Tangerine Dream and Klaus Schulze.

While most dark ambient acts focus on creating deep drones and mystifying atmospheres, 'Duivels' seems to be a collection of songs, varying massively in sound and style. 'Raven' for example is a strange jazz piece, perfectly suited for a David Lynch soundtrack while 'Pro Create' drives on mild techno beats and repetitiveness, somehow bringing Chris and Cosey to mind. Odd but nonetheless very interesting.

Iin 2017 a new era starts for Azure Mortal. 'Dialogues' is a fresh 3 track EP on Prova. The title track is an uptempo melange of jazz, techno and classical strings. Ernst Low signs again for some creepy poetry in 'Demon in het Duister'. And 'Never More' finally, is an apocalyptic track, inspired by Edgar Allan Poe. Live Azure Mortal will add new daring colours to their sound thanks to a liveband consisting of the finest musicians in the jazz, rock and improscene...

Dirk Swartenbroekx (DJ Buscemi): piano
Ernst Löw: spoken word
Rodrigo Fuentealba Palavacino: double bass
Peter Verdonck: saxophones