LINE UP CITADELIC@SMAK 17

location: S.M.A.K. museum
Jan Hoetplein 1, Ghent
other concerts
tuesday 21 FEBRUARY
20H
1000 anthems to work on a good end (Jan Klare / Wilbert De Joode / Bart Maris / Michael Vatcher)
21H15
KEENROH + LYTTON + GEBRUERS


other concerts
thursday 16 MARCH
20H
NEXT PONY LEVEL (Sebastian Strinning / Jakob Warmenbol)
21H15
AGUSTI FERNANDEZ / JOHN BUTCHER / HUGO ANTUNES / ROGER TURNER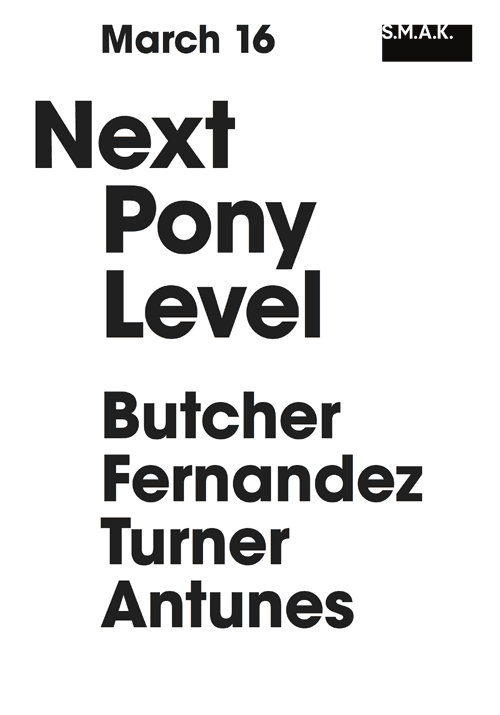 thursday 27 APRIL
20H
ERIK VERMEULEN solo
21H15
GAYLE BARCELLA CABRAS


archive 2015
for reservation (VVK) mail info@citadelic.be
tuesday 16 may 2017
20H - VEDER
Veder harbours compositions and improvisations, rich in melody and texture, conceived by three horns and an acoustic guitar.
Niels Van Heertum: euphonium
Eivind Lønning: trumpet
Joachim Badenhorst: sax, clarinet
Ruben Machtelinckx: guitar, banjo
21H15 - SYLVIE COURVOISIER TRIO
Sylvie Courvoisier steps out with her long awaited first recording for piano trio! One of the most creative pianists in the downtown scene, and a long time collaborator of Mark Feldman, Ikue Mori and many others, Sylvie combines a brilliant technique with a wild imagination that straddles classical, jazz, improvisation and more. Featuring the dynamic rhythm section of Kenny Wollesen and Drew Gress, the music combines the best of impro- visation and composition in the classic piano trio format. Three years in the making this is an essential project that highlights an exciting new musical world.

About her new trio, Courvoisier says: "For many years John Zorn has been asking me to form a piano trio—but I always felt in- timidated by its long and powerful history. Finding the right musicians to work with was of course essential, and I tried many different combos before settling on this one. Drew and Kenny are definitely the right trio—being both beautiful players and beautiful people. Drew has a gorgeous sound and a unique rhythmic sensibility, and Kenny has such a wonderful sense of groove and a huge dynamic range. This music has more of a rhythmic feel than much of my past work, and the pieces range from through-composed material which incor- porate windows of full-on improvisation from the jazz tradition, to parts that are very open and free."

Bassist/composer Drew Gress performs extensively with artists on the cutting edge of contemporary improvised music. Drew can also be heard within the ensembles of John Abercrombie, Ralph Alessi, Tim Berne, Don Byron, Uri Caine, Bill Carrothers, Ravi Coltrane, Marc Copland, Mark Feldman, Fred Hersch, John Hollenbeck, Tony Malaby, and John Surman.
Percussionist Kenny Wollesen is an American drummer and percussionist, who lives in New York City. He has performed on over 30 recordings during the 1990s and, as the decade progressed, gained increasing renown as a musician of astonishing versatility, skill, and ingenuity. He has recorded and toured with all kinds of musicians, from Tom Waits (Wolleson performs on Waits' 1993 col- laboration with William S. Burroughs, Black Rider), to Sean Lennon, to Ron Sexsmith (Wolleson performs on his second album, Other Songs). A founding member of the New Klezmer Trio, Wolleson is also all over N.Y.C.'s downtown jazz and avant-garde musicians' recordings, and has been so active as to tour with Bill Frisell and Myra Melford in the same month.

"That Sylvie Courvoisier's music is as aesthetically beautiful as it is strange and mysterious is only further testament to her prowess as a composer." — All Music Guide.


Sylvie Courvoisier: piano
Drew Gress: bass
Kenny Wollensen: drums & percussion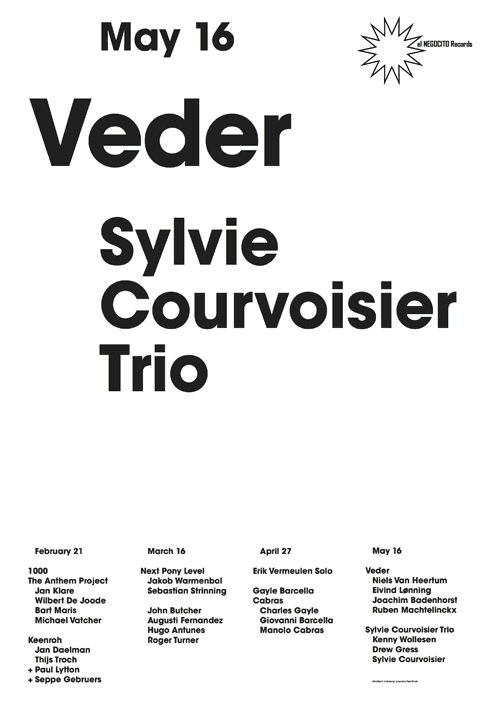 NEWS
30 january 2015
We will program concerts in co production with SMAK at the Museum. 3 spring dates to follow soon !!!
8 august 2014
Citadelic Festival edition 8 from 28 til 31st of may
8 june 2014
Atelier sessions announced... release eNR022 / new kid on the bloc on piano Kaja Draksler / Giovanni Barcella as Robin Hood
17 may 2014
helterskelter... programm on the way; poster by smeraldina-rima etc.