LINE UP CITADELIC@SMAK 17

location: S.M.A.K. museum
Jan Hoetplein 1, Ghent
other concerts
tuesday 21 FEBRUARY
20H
1000 anthems to work on a good end (Jan Klare / Wilbert De Joode / Bart Maris / Michael Vatcher)
21H15
KEENROH (Thijs Troch / Jan Daelman) + LYTTON + GEBRUERS


other concerts
thursday 16 MARCH
20H
NEXT PONY LEVEL (Sebastian Strinning / Jakob Warmenbol)
21H15
AGUSTI FERNANDEZ / JOHN BUTCHER / HUGO ANTUNES / ROGER TURNER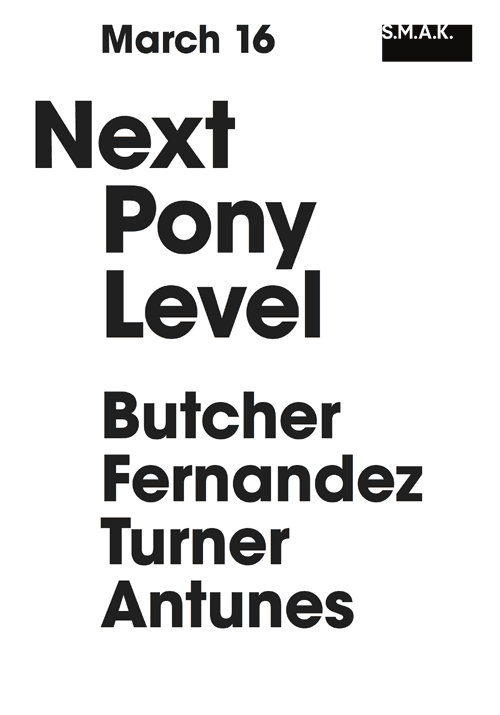 tuesday 16 MAY
20H
VEDER (Niels Van Heertum / Eivind Lønning / Joachim Badenhorst / Ruben Machtelinckx)
21H15
SYLVIE COURVOISIER TRIO (Sylvie Courvoisier/ Drew Gress / Kenny Wollensen)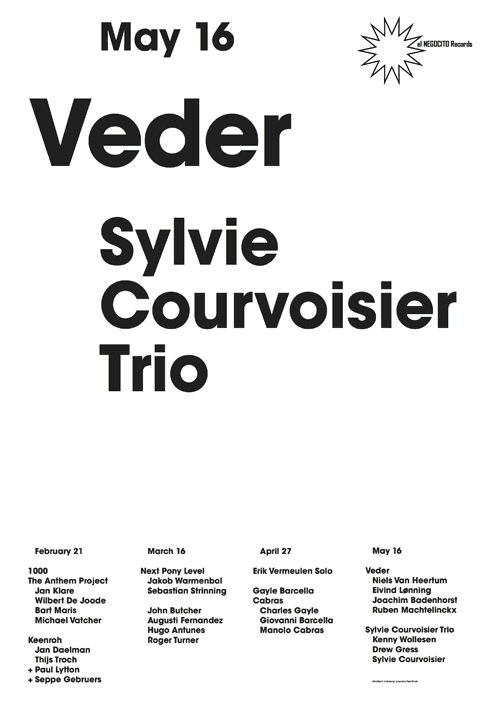 archive 2015
for reservation (VVK) mail info@citadelic.be
thursday 27 april 2017
20H - ERIK VERMEULEN solo
Erik Vermeulen is afkomstig uit een muzikale familie maar liet zijn klassieke muziekcarrière met cello staan en stapte later naar de jazz om jazzpianist te worden. Ondertussen vormt Vermeulen een vertrouwde en toch aparte stem in het Belgische jazzlandschap.

Vermeulen legt zich in de eerste plaats toe op het creëren van zijn eigen muziek. Composities van eigen makelij worden afgewisseld met improvisaties van verschillende allure en een selectie uit het standaardrepertoire. Het trio leek hem hiervoor de beste formule. Intiem genoeg en toch met veel mogelijkheden. Hij heeft met verscheidene trioformules gespeeld: Hein Van de Geyn en Dré Pallemaerts, Jean-Louis Rassinfosse en Félix Simtaine, Philippe Aerts en Dré Pallemaerts, Otti Van der Werf en Erik Thielemans, Sal La Rocca en Jan de Haas, Marek Patrman en Eric Surmenian of Manolo Cabras en Marek Patrman.

Met altsaxofonist Ben Sluijs zette hij een intense samenwerking op. Niet alleen was Vermeulen lid van zijn kwartet en The Unplayables meet Erik Vermeulen, maar ook vandaag blijven deze muzikale bloedbroeders actief als duo.

In de loop der jaren was hij aan de zijde te zien van heel wat Belgische en internationale musici, gaande van Jacques Pelzer, Phil Abraham, Steve Houben, Richard Rousselet tot Toots Thielemans, Philip Catherine, Joe Lovano, Art Farmer, Steve Grossman, Clark Terry, Teddy Edwards,Michael Moore en Barre Phillips.

Prijzen
Django d'Or 2003: beste Belgische musicus van het jaar
Klara Muziekprijzen 2009: winnaar in de categorie Jazz
Erik Vermeulen: piano
21H15 - GAYLE BARCELLA CABRAS
Charles Gayle remains a living embody and voice of the great African American tradition; his sincerity and intensity are recognized as unique and absolutely dazzling, live and on a recording. Each concert Gayle is the continuation of the great tradition that can still be called "free." However not in the sense of the "free jazz" some people still speak of. Gayles mastery of that tradition is confirmed on his solo and pianowork. After being invited to Belgium by el NEGOCITO Records, the Italian drummer Giovanni Barcella organized three tours through Italy and Belgium, with the Italian contrabassiste Manolo Cabras. The meeting of minds was immediate, the musical coesion and respect for each others work direct.

Charles Gayle's stoy. He blew down with hurricane force - the pun is too obvious - out of Buffalo. He drifted in and out of the first great free jazz scenes of the Sixties, playing with Pharoah, Archie Shepp, and other trailblazers. But he says now that his sound then was even more fiery and forceful than it is now, and he couldn't get a recording date. He drifted. He became homeless. He lived as a squatter in an abandoned Lower East Side tenement. He found Jesus. He played wherever he could; his steadiest gig was in the New York subways.

Eventually lightning struck. In the late Eighties Silkheart Records recorded three discs featuring Gayle's ecstatic, holy holy tenor. After that work, and recordings, came a bit more steadily. For the enigmatic German FMP label he recorded the all-time classic Touchin' on Trane with musicians as talented and passionate as he: bassist William Parker and drummer Rashied Ali. On some discs Gayle himself plays viola, bass clarinet, other oddments. But his chief double is piano, which he has played with increasing frequency and facility in recent years.

Popular perceptions may change, but a lot of people do not get familiar with the persononality of Charles Gayle because he speaks his mind in concert, and his views are not fashionable. He speaks about his Christian faith and about respect for life. He dresses up like a clown and acts the fool for the many who say he acts like a fool. His speech is as unpolished and sincere as his playing, and obviously springs from the same well.

There is no player on the scene today with the emotional wallop of Charles Gayle. His later discs - particularly Ancient of Days - manifest a mature improvisational talent that can stand with any saxophonists today. If you are interested in improvised music, you owe it to yourself to hear him.
Charles Gayle: saxophone & piano
Manolo Cabras: bass
Giovanni Barcella: drums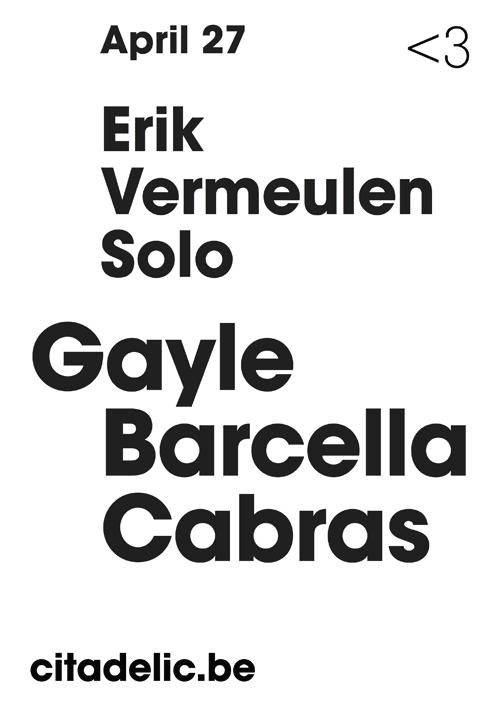 NEWS
30 january 2015
We will program concerts in co production with SMAK at the Museum. 3 spring dates to follow soon !!!
8 august 2014
Citadelic Festival edition 8 from 28 til 31st of may
8 june 2014
Atelier sessions announced... release eNR022 / new kid on the bloc on piano Kaja Draksler / Giovanni Barcella as Robin Hood
17 may 2014
helterskelter... programm on the way; poster by smeraldina-rima etc.