LINE UP CITADELIC@SMAK 17

location: S.M.A.K. museum
Jan Hoetplein 1, Ghent
other concerts
tuesday 21 FEBRUARY
20H
1000 anthems to work on a good end (Jan Klare / Wilbert De Joode / Bart Maris / Michael Vatcher)
21H15
KEENROH (Thijs Troch / Jan Daelman) + LYTTON + GEBRUERS


thursday 27 APRIL
20H
ERIK VERMEULEN solo
21H15
GAYLE BARCELLA CABRAS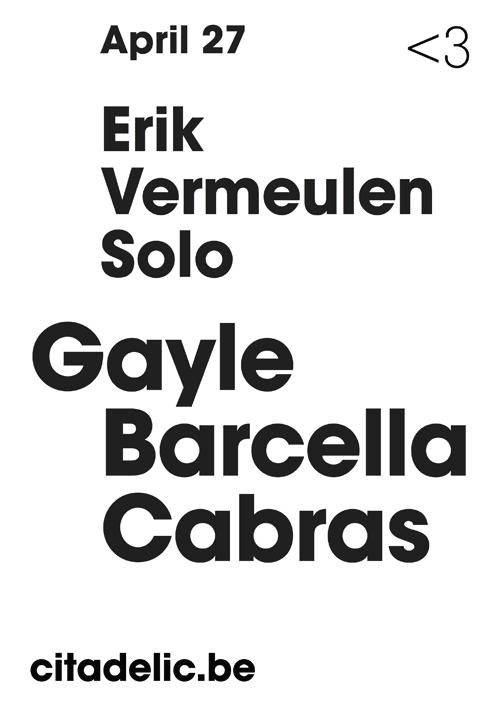 tuesday 16 MAY
20H
VEDER (Niels Van Heertum / Eivind Lønning / Joachim Badenhorst / Ruben Machtelinckx)
21H15
SYLVIE COURVOISIER TRIO (Sylvie Courvoisier/ Drew Gress / Kenny Wollensen)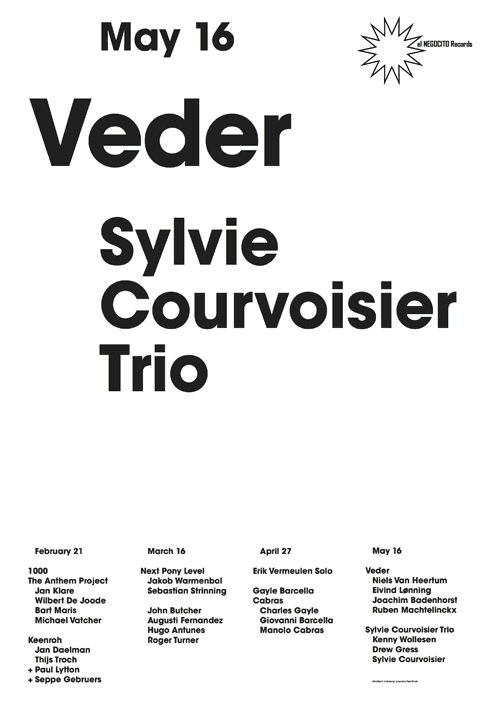 archive 2015
for reservation (VVK) mail info@citadelic.be
thursday 16 march 2017
20H - NEXT PONY LEVEL
Next Level Pony is the duo of saxophonist Sebastian Strinning (CH) and drummer Jacob Warmenbol (BE). They met in Stockholm in 2012 and have since regularly on tour in Belgium and Switzerland. The duo will steamy improvisations with a high content of free jazz, without warning necessary rhythmic patterns. African music and rock are often recurrent spontaneous inspirations in their compositions, but there is also room for minimalist passages where a wide dynamic range is used. Next Level Pony play music from their belly and try as to bring the widest possible audience in their trance.
Sebastian Strinning (BE): saxophone
Jakob Warmenbol (BE): drums & percussion
21H15 - AGUSTI FERNANDEZ / JOHN BUTCHER / HUGO ANTUNES / ROGER TURNER
Over decades Roger Turner has brought the renowned volcanic power and finely honed precision of his drum work to ensembles that have often forged real connections with musicians both sides of the Atlantic. In addition he has worked extensively in the microscopic laboratory of the acoustic duo situation where he acquired a highly developed sense of detail and of dynamic control. One of that select group of world-class players who have collectively redefined the language of contemporary percussion. In Turner's hands minute inflections of tension can shape the group's musical direction and galvanise a new level of audience experience.
Agusti Fernandez (ES) : piano
John Butcher (GB) : reeds
Hugo Antunes (PT) : bass
Roger Turner (GB) : drums & percussie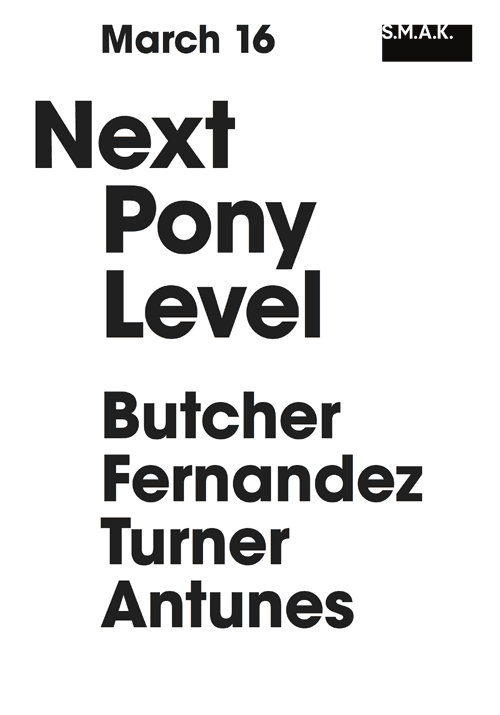 NEWS
30 january 2015
We will program concerts in co production with SMAK at the Museum. 3 spring dates to follow soon !!!
8 august 2014
Citadelic Festival edition 8 from 28 til 31st of may
8 june 2014
Atelier sessions announced... release eNR022 / new kid on the bloc on piano Kaja Draksler / Giovanni Barcella as Robin Hood
17 may 2014
helterskelter... programm on the way; poster by smeraldina-rima etc.